Description
The AQUA Cube is the Ultimate manual boot cleaning station. Made from high quality UV resistant polyethylene with internal stainless steel tubing and spray jets that is built to last in any harsh environment.
With an encased design any water splashing's or aerosols is minimised and captured within the  "cube" keeping the dirt in.
Cleaning the soles of safety shoes or boots is simple. Just turn the 1st ball valve to allow water to spray out towards the base. Combine this with the bottom and side brushes and you have the perfect handsfree wet clean. The addition of the water feed hand brush provides an additional cleaning mechanism. Simply turn on the 2nd ball value and you have full control to clean not only the soles but the sides of the boots. The wastewater is captured and can be channelled away towards the ½ inch hole minimising cross contamination and keeping the area clean.
Perfect for both mining and food companies.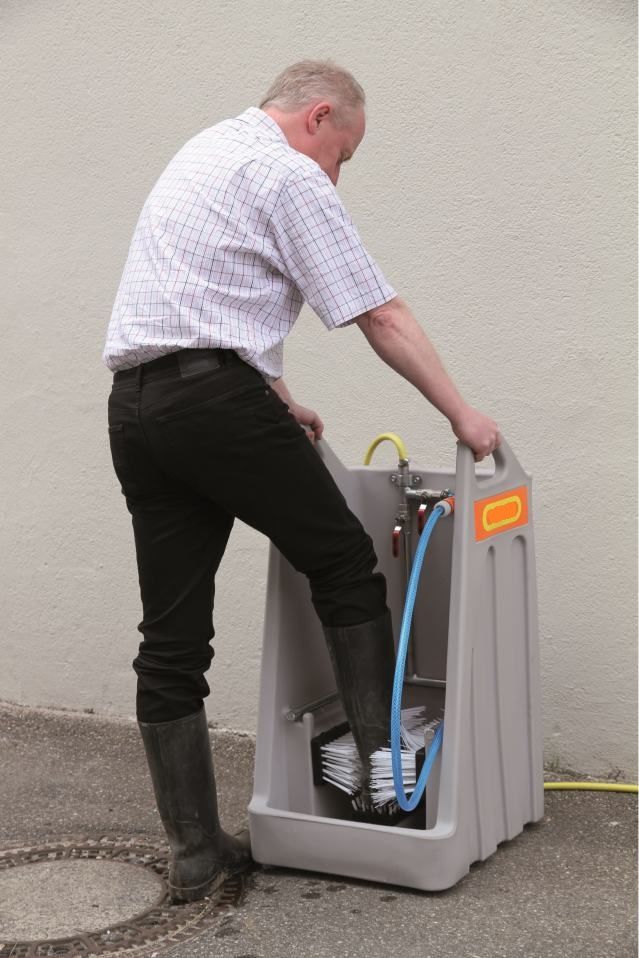 Optional Features
Add metal grate to scrap off heavy soiling and you have the ultimate cleaning station for the mining industry.
Add dosing system and you have the ultimate sanitised boot cleaner.
Here's what you get in the AQUA Cube – Ultimate manual bootcleaning station
UV Resistant PVC enclosure to minimise aerosols and splashing's
Stainless steel tubing for corrosion free cleaning
Bottom spray jets for handsfree cleaning of soles of shoes
Two separate ball valves for better control
Water feed hand brush for additional mobile clean
Unique design to capture water waste and be plumbed away minimising cross -contamination.
Designed and Made in Germany